More than 10,000 young people from across the UK have taken part in the National Saturday Club programme since it launched in 2009. We recently caught up with sisters Abigail and Chloe who were members of the Yorkshire Coast College Art&Design Club in 2010/11 and are now are Creative Directors of communications studio Buttercrumble.
What are your names?
Abigail and Chloe Baldwin
What are your job titles?
Creative Directors of Buttercrumble
Which National Saturday Club did you attend and when?
Yorkshire Coast College Art&Design Club in 2010/11
What did you study at university?
We graduated in 2016 from the University of Leeds with degrees in Graphic and Communication Design
Where are you based now?
Leeds, Yorkshire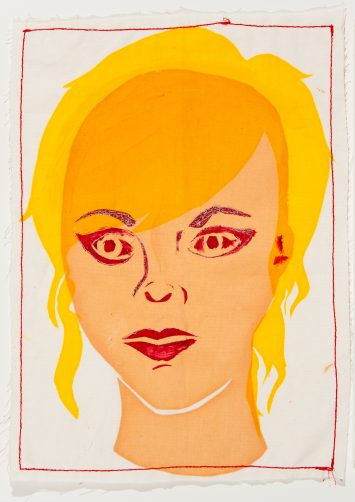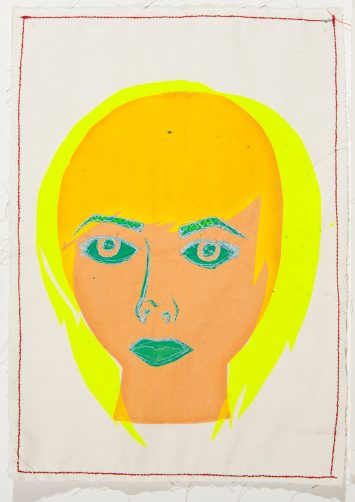 Chloe (left) and Abigail's (right) self-portraits from 2011.
Why did you decide to pursue a career in the creative industries?
We've always been creative and so when we left college we decided to study it at University. At the National Saturday Club, our tutor saw how much we loved art which gave us the confidence to choose creative courses at college and university.
How did you go about pursuing your interest in the creative sector?
We went to Scarborough Sixth Form College where we both studied Fine Art and Graphic Design and then to the University of Leeds to study Graphic and Communications Design. When we were finishing university, we thought that because we've always been designing and making together anyway that we could create a business.
How did you launch Buttercrumble?
The University of Leeds was really vital in making the decision to run our own business. We started doing illustration and design and sharing that online just to be a part of a community and to get feedback on our work. The university spotted us getting a lot of interest and told us that this could be a business. 
"No one had ever really said you could be business women and no one in our family runs a business so it had never really crossed our minds."
The university ran an enterprise programme which awarded us with enterprise scholarships to support the set-up of the business. They were very open to creative businesses. Sometimes when you think of enterprise or entrepreneurial spirit, you think of people who were on The Apprentice and who are suited and booted and really confident. But not all business people are like that and for us we just wanted to do what we love.
Whilst we were at university and after graduating, we were doing smaller jobs in the evening so that we could run the business fulltime in January 2017.  It's been really exciting to be recognised and nominated for awards too! We won Micro Business of the Year (2018) at the FSB Awards and have been Finalists at the FSB Awards for Young Entrepreneur of the Year (2019, 2018) at the GBEA for Family Business of the Year (2019).
Now going back to your time at the Yorkshire Coast College Art&Design Club in Scarborough, do you have any standout memories?
"The Saturday Club exposed us to things that you don't usually come across or creative things that are a little bit more unexpected."
One of our favourite memories was having the opportunity to do millinery at the club. We had never really known much about hat making but a milliner visited the club and we got to make a beret! You wouldn't usually get the opportunity to work with a more traditional craft or work so closely with a craftsperson. 
Is there any advice or anything that you took from the club that you still use today?
Technical drawing is a skill that has always been very important. When you do art at school, you don't always have the opportunity to go into the fine details but at the Club we had a few weeks where we were taught the observational drawing and practical drawing skills that we still use today.
What impact did the Summer Show have on you in 2011?
"Seeing our work in Somerset House was so exciting and probably the first time that somebody other than our mum was looking at our work!"
 Afterwards it hit us that we actually exhibited at Somerset House which not many people really get the chance to do, it's a great opportunity!
What impact did the National Saturday Club have on your decision to pursue a career in the creative industries?
It was really valuable to us because every week or every few weeks we would do a different art form, craft or skill which enabled us to try lots of different things and consequently gave us a lot of confidence. Lots of people think 'Will I be a poor starving artist?' but it's not very likely, there are plenty of opportunities within the creative industries and you can get plenty of different jobs within it.
Do you have any advice for someone who might be considering joining the National Saturday Club or perhaps feeling a bit nervous about joining?
Don't ever be afraid of trying anything. Even if you don't enjoy one thing then you know that that's not for you and that there are other things that you can enjoy. But you don't know that until you have given it a go and so you just have to go for it. Going to a club gives you the opportunity to try these things out in a safe environment. It's also the best time to try things out because when you get older, you don't have these opportunities as much because they might be expensive or you might have a busy job so definitely give things a go if you are given the opportunity! 

To find out more about Buttercrumble, visit their website.
For National Saturday Club updates, subscribe to our newsletter.
If you are a former Club member, let us know what you have been up to at: hello@saturday-club.org